Analysis of North East Hook 550 house planning application
The content on this page provides an analysis of some of the aspects of the proposed North East Hook development. This information is intended to draw your attention to some key aspects of this planning application and point out items which we believe to be factually incorrect or misleading. We would encourage everyone to comment on this planning application. You should not directly use the text below to make comments on it as to do so may be considered a single objection rather than individual contributions. You should raise comments from your own personal perspective and experience.
There are a number of technical areas in which we as a group do not have the required expertise to understand whether claims made are valid or whether mitigation suggested is appropriate. If you have experience in a specific technical area such as water supply, surface water drainage, foul water disposal, environmental impact then we would urge you to read the appropriate documents and comment appropriately. If you need guidance on which documents contain relevant information for your area of knowledge please contact us as we have been through all of the documents to assess their content.
You can view a copy of the top-level planning statement from the developer here: 14_00733_MAJOR-PLANNING_STATEMENT-893194.PDF
The link for commenting on the planning application is: http://publicaccess.hart.gov.uk/online-applications/applicationDetails.do?activeTab=summary&keyVal=N356SZHZ0EL00. Alternatively you may email comments to planningadmin@hart.gov.uk – be sure to include the application reference 14/00733/MAJOR and your name and address.
Map
This map shows the development site with the three road access points marked.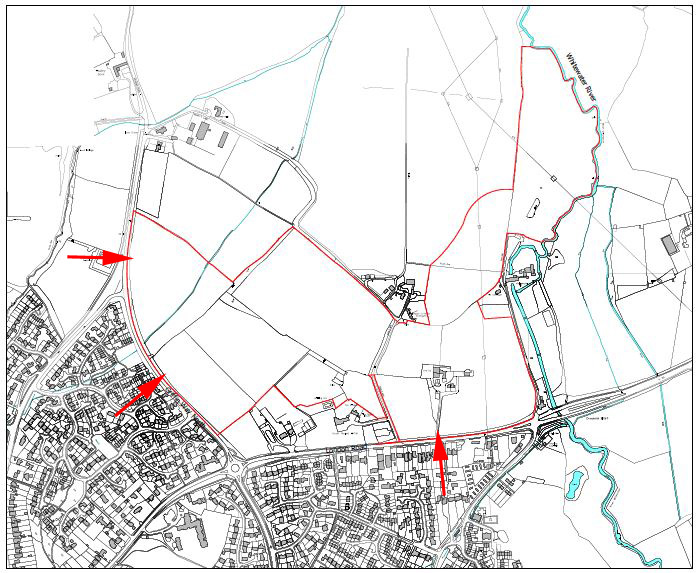 Scale
The North East Hook planning application is for up to 550 houses. This is in addition to the 70 at Reading Road (about to be approved), 60 at Brown Croft (approved) and 47 at Hop Garden Road (expected imminently). This gives a total of 727 houses. Before it was withdrawn, the final version of the Local Plan suggested "around 500 houses" at the North East Hook site plus 100 more elsewhere in Hook. The proportionate number of houses for Hook based on its size relative to the size of Hart would be around 250 houses.
Location
The developer's application says that the site is well located for the existing village centre and that walking, cycling and public transport will provide an alternative to private car journeys for residents of this site. Also that the primary schools are within walking distance.
The village centre is 1.1km from the site. The station is 1.4km from the site. Hook surgery is 0.8km from the site.
Hook Infant and Junior schools are 0.8km from the site with A30 and B3349 separating the site from the schools.
There are no new controlled crossing points planned on either Griffin Way North or London Road.
Roads and Traffic
There will be three points of access to the new development – London Road (near current entrance to Park Health club), Griffin Way North (close to the proposed entrance/exit for Sainsburys) and Reading Road (near the exit from Old Reading Road on the opposite side).
With the 2 new junctions onto the B3349, and the entry/exit from Sainsburys, there will be a total of 5 junctions onto the stretch of road between the Garden Centre and the A30.  All of these exits will be onto a busier road, none of them will have controlled access and turning right will be permitted from all of them.  As anyone who currently has to leave from Oak Tree Drive or Old Reading Road knows, turning out during peak hours can already be very difficult.
The applicants own figures show that the cumulative effect of this development, Sainsburys and the Reading Road development will be a 24.5% increase on base traffic at the A30/B3349 roundabout.
The Proposed Development is expected to generate about 400 peak hour two way vehicle trips. This only accounts for this development, not Sainsburys.
The applicant has conducted traffic modelling of the B3349/A30 roundabout, and the impact of the proposed development.  This has indicated that the "maximum queue lengths are anticipated to increase from two vehicles to four vehicles in the AM peak hour and from two vehicles to five vehicles during the PM peak hour".   So apparently all of us who currently have to sit in a queue of far more than 2 cars at that roundabout every day must be mistaken…
Accessibility
Hart District Council commissioned a Transport Assessment (TA) as part of Local Plan preparations.  This concluded that accessibility from this particular site was as follows:
| | |
| --- | --- |
| Walking/Cycling | WEAK |
| Bus | AVERAGE |
| Train | AVERAGE |
The developer has proposed a number of revisions to this TA, which they say results in an improved accessibility rating.
The walking/cycling assessment has been improved from Weak to Average primarily as a result of using the private, members-only Park Health Club as the "gym/leisure centre" destination in place of Hart Leisure Centre. The Park Health Club has a gym and fitness studio but no swimming pool and few other facilities. Hart Leisure Centre has a larger gym, two fitness/dance studios, multiple badminton courts, five a side football space and gymnastics facilities. Hart Leisure Centre also provides casual user prices without an ongoing membership fee and has concessionary rates for various groups. As a small, private, members-only club the Park Health Club should not be considered an appropriate facility for the purposes of the Transport Assessment.
It is also claimed by the developer that improvements could be made to the bus assessment, resulting in an improved score for bus accessibility. However, the developer does not attempt to do this reassessment. It should be noted (see below) that the existing analysis of access by bus itself grossly overstates the bus transport provision.
The rail accessibility is classed as Average, but this rating depends on linked journeys possible by bus from the site, so the Rail accessibility rating is also entirely invalid due to the errors in the bus access analysis.
Further details of each of the transport modes follow below.
Buses
The developer's planning application states that there are four bus stops adjacent to the development site, that the site is served by four separate bus services with 30 minute and 60 minute frequency and concludes therefore that the bus is a feasible alternative to car transport for residents of housing at this site.
The four bus services listed by the developer are as follows:
Num
Destination
Notes
30
Basingstoke,Farnborough
Hourly service at bestStops at Hook Railway Station, 1.4km from siteDaytime only service

(last buses arrive 18:20 from F'boro, 18:54 from Basingstoke)

100
Camberley
Service was cancelled in Feb 2014 but has just been reinstated on a very limited basis – three return trips per day, Mon-Fri only, two to Camberley and the final one to Blackwater. First bus of the day departs Hook 09:28. Last bus of the day arrives in Hook at 13:53.
83
Yateley
School service, one return trip per dayStops at White Hart Pub, 1km from site
430
Farnborough
College service, one return trip per dayStops at White Hart Pub, 1km from site
Of the four bus stops adjacent to the development site only 1 very limited bus service uses any of these.
Cycling
The developer's application states that:
"A shared cycle/pedestrian route exists along Holt Lane. It is marked out on the footway and provides a useful facility for cyclists, linking to residential areas and the Bartley Wood Business Park. There are also a number of leisure and recreational routes in the area."
So a single non-recreational cycle route has been identified by the developer.
"There are currently four National Cycle Network routes in Hampshire, in varying stages of availability and completion. For example; Route 23 runs from nearby Basingstoke to Reading."
The nearest National Cycle Network route is therefore 5.5 miles from the development site.
Rail
The developer says that at 1.1km the rail station is a walkable distance from the proposed development site. The rail station is 1.4km from the proposed development site.
The developer says that bus can be used in a linked journey with rail. There are just three weekday buses from the proposed development site to the rail station so a linked journey is quite unlikely.
Experience of other residents living a lot closer than this site is that private car will be used to link to the rail journey. The station car park is already at or close to capacity and surrounding residential roads are impacted by parking for the station.
Schools
The developer's application states that the following additional local school places will be required as a result of this development:
| | | |
| --- | --- | --- |
| Primary (Hook Infant School, Hook Junior School) | 165 places | Equivalent to one extra class in every year group |
| Secondary (Robert May's School) | 116 places | Equivalent to one extra class in every year group |
The plan is to expand the Hook Primary Schools and Robert May's Secondary School.   These schools have already been extended multiple times; increasing the capacity of a school should not just mean adding more classrooms.