Initial Results From Hart's Housing Consultation
Well done to all our supporters who responded to the Hart Housing Consultation, both the original cancelled one and the replacement. Hart have published an analysis of the results and it is clear that you responded in great numbers. In total there were almost 5,000 responses and a geographic breakdown shows that Hook residents were making their voices heard, loud and clear. A map was included with the results: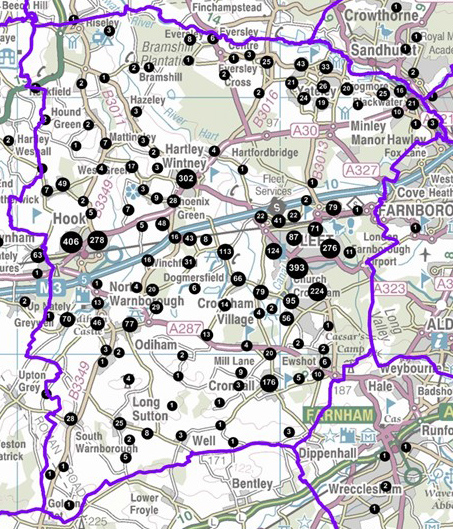 The full summary and breakdown of results can be found at http://www.hart.gov.uk/local-plan-housing-options-results-2016 but the responses to the main questions reveal that from all the responses, not just those in Hook:
An overwhelming 87% of responders were against the "Urban Extensions" approach that could see a large development to the West of Hook
A huge majority of 59% of responders favoured the new settlement approach, centred on Winchfield
In the "combined options" with more than one approach taken:
The most preferred option, with 40% putting it as first choice, was a new settlement at Winchfield combned with other smaller developments dispersed across the district
Only 4% of responders thought that the best option was to combine all three options of a new settlement, urban extensions and dispersal across the district
It is very clear from all the responses that Urban Extensions are seen as the worst option for Hart and a new settlement seen as the best. Hart have consulted, now let's keep the pressure on them to produce a Local Plan in line with our wishes.